I have to say I was very skeptical of Essential Oils and did not think they could help me, let alone my animals.  I love to diffuse oils, but it was purely for the aroma … those nice pretty smells.  Lets face it, when you have 3 dogs … it can start to smell a little doggie and the oils made the house smell soooo much nicer.
I was introduced to them about 3 years ago and thought the lady was a little crazy with her beliefs. However I gave them a go and starting using them.  I was always amused when my friends turned up with oils and raved about how fantastic they were.
I finally decided it was time to really test these oils out and I bought myself a home essential kit. I got home, turned that diffuser on and haven't looked back. I tested the oils with my family and was so excited to see the results we got.
When I decided to start working with animals, I looked more into what oils could do for my fur babies. I made up a blend for fleas, arthritis, a calm blend and itchy skin. I had amazing results!
Now before you rush out and buy some cheap product off the shelf at the $2 store PLEASE PLEASE… be sure to purchase the highest quality product, so that you aren't poisoning yourself or your dogs with brands that have been  diluted or have questionable things added to them. I researched the products I use and even went to their convention to learn more about the products before I encouraged anyone else to use them.
** A question I get a lot !!! Do vets use and recommend these products? And the answer is YES.  Locally on the Sunshine Coast where I live, there are two vets that I know of, that use these products in their practice.  I'm happy to give you their details if you wish to check them out!
USING ESSENTIAL OILS FOR YOUR DOG!
Use the following ratios when using oils for your dogs (Less is More):
For dogs under 7kg dilute 1 drop of essential oil to 2 tbsp of FCO (coconut oil).
For dogs 7-15kgs dilute 1 tbsp FCO to 1 drop of essential oil.
For dogs 20-40kgs dilute 1tbsp FCO to 2-3 drops of essential oil
For larger animals over 40kgs dilute 1tbsp FCO to 3-5 drops of essential oil .
THESE ARE MY TOP TIPS WHEN USING ESSENTIAL OILS:
Avoid putting oils around face, nose, eyes as this is usually too overwhelming for dogs.

Most oils are better applied to the bottom of back paws between toe pads, on the stomach and/or behind ears for certain applications.
Exercise caution with pregnant or nursing animals.
Know your animals health status and behaviour, and discontinue use if concerns arise.
Always consult a vet if in doubt before using oils.
Never introduce an essential oil in times of stress
Do not use Melaleuca oil on toy breeds. Dilute for larger breeds.
Clove is also not recommended, except diluted for post oral surgery pain.
Oregano, Birch, Thyme or Wintergreen can be toxic to dogs too.
Not all oils can be used on dogs (so please research the oil before using it).
Essential oils can be applied in various ways. Always be aware that some dogs may not like certain oils, and if you find your dog turning away or avoiding you when you try to apply the oil, be very cautious in using it.
HOW TO INTRODUCE AN OIL TO AN ANIMAL:
So how do you choose which oil to use? Very simple, let your dog decide.
Keep the lid on the bottle, let your dog smell each one that you think might be beneficial to them.
They will let you know the ones they like by sniffing or licking when presented with the bottle. If they don't like the oil they will walk away, turn their head the other way or ignore it completely. If your doggie shows interest in the bottle that is the one you should use. Once they have selected their oil/s, you are ready to make them into a blend.
**While you can use some oils with cats I personally don't use oils directly on my cat as he is 14. He is often in the room when oils are diffused but I always make sure he can leave the room if he wants too.  Cats are far more sensitive than dogs so care is needs to be taken when using EO around them.
HOW TO APPLY ESSENTIAL OILS TO DOGS:
Diffuser
Add their favourite oil to a diffuser so they can inhale it (ensure that they can leave the room if necessary).
Aromatically
Essential oils can be used aromatically by putting a drop of the essential oil on their collar, bandana or on their dog bed. You may prefer to make a spray by adding a few essential oil drops to water and spraying their fur.
Topically
You can apply essential oils to the spine, ears, or even on their pads. You can apply essential oils directly on their body however avoid the eyes, nose, anal and genital areas. Also be careful to ensure that you dilute the oil before putting it directly on their body as some oils are hot and can burn their skin.
BASIC 10 'GO TO' OILS FOR DOGS
DIGESTZEN – Digestion issues; diarrhoea, constipation, vomiting, upset stomach, motion sickness, parasites in GI tract
LAVENDER – skin issues, burns, infections, wounds, inflammations, calming, disinfect, insect bites, ear infections, allergies
LEMON – stop bleeding, cleaning surfaces, allergies, antibacterial, antiviral, insect repellent, cough/sore throat.
TEA TREE – (always dilute this oil), fleas,  arthritis, bacterial infections, viral infections, inflammation, strengthen immune system, cuts and wounds, skin issues
ONGUARD- bacterial infection, yeast infection, viral infection, immune system support, topical disinfectant, neutralize bee and insect sting toxins
PEPPERMINT – pain, breathing challenges, inflammation, insect repellent, fever/overheating, motion sickness/nausea, indigestion, allergies
FRANKINCENSE – Wound healing (including suture sites), infection, yeast, scar reduction, calming, skin issues, pain, inflammation, immune support, tumour reduction
TERRASHIELD – insect shield/repellent
PURIFY – Clean wounds, insect repellent, strengthens immune system, odour deodoriser
SERENITY – Stress, anxiety, fear, stress of pain, separation anxiety
HELICHRYSUM – Stop bleeding, close wounds, liquid sutures, pain, fungal infection, inflammation, nerve damage, bruises and swelling.
7 of the oils mentioned above are available within the Doterra Home Essential Kit, so its a great way to get started with using them.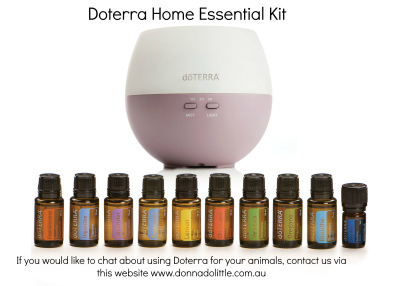 Are you ready to get started using Oils for your doggies and family? If you answered yes … Fantastic! Good news is you don't have to pay full price (like I did for well over two years), you can become a Wellness Advocate and get up to 30% discount.
OR if you would like to get a few products and test them out … this ok too! Remember these are Therapeutic Grade Oils, they have been tested for quality and are fantastic for our doggies and humans:-)
Visit my website to join ==> https://mydoterra.com/donnadolittle
Have a read of the page and when you are ready .. Click on JOIN & SAVE and follow the onpage prompts.
Not sure about what you want to do, that's ok too, drop me a message via this page and lets have a chat first, to help you decide. Drop on over to the Contact Us page and fill in the form.
Animal Communication | Animal Healing | Bush Flower Remedies |