Bush Flower Essences have been around for years and I have used them on my family with fantastic results.
Whilst attending an educational session about holistic health the facilitator discussed the use of Bush Flower Essences on animals. At the time it had never occurred to me to use essences on animals and the benefits they may have.
The first product I armed myself with was a bottle of "Emergency Essences". (ps It's brilliant for any human emergency that may crop up). It gets used on my teenager, my friends and anyone who is having an emergency (crisis, emotional upset, accident etc). I also keep a handing spray bottle in my purse.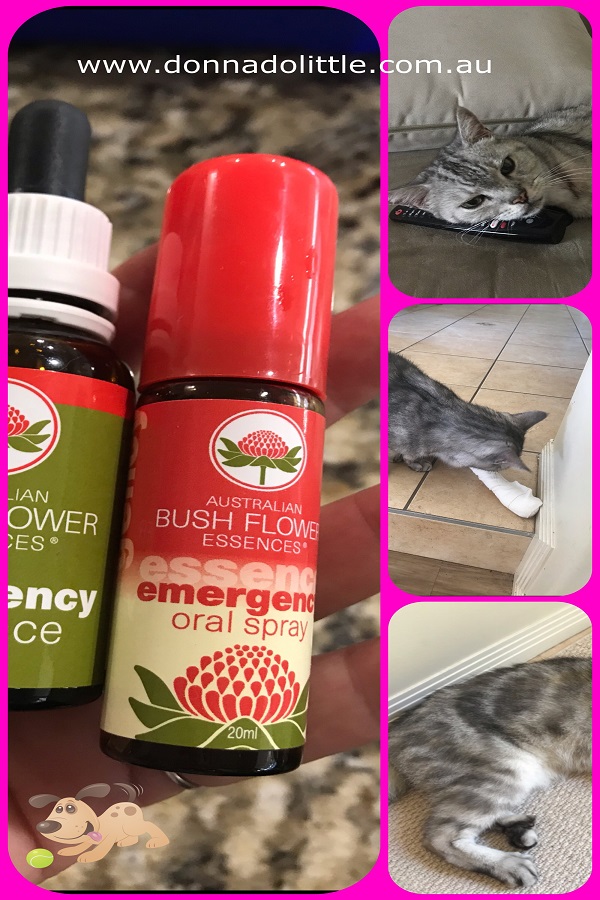 In 2017 I attended an Australian Bush Flower Essences weekend workshop to learn more about the 69 essences and how I could assist animals using these essences.
Here's a few examples of where Emergency Essences can be used on animals;

Storm phobic dogs;
Calming animals on car rides;
Emotionally stressed animals;
In times of an accident or trauma;
Before a trip to the vet;
In times of shock or pain;
Bringing a new animal in the house;
Cats stressed in multi-cat households or in boarding catteries;
Assists recovery from operations, surgery, or major injuries.
Stress contributes to common illnesses in our pets including lower urinary tract disease in cats, irritable bowl in dogs, skin irritations, poor sleep and behavioural problems. Reducing this stress and anxiety clears the way for your pet to heal.
Cost:
A bottle of Australian Bush Flower Emergency Essences costs around $20 and is well worth the investment. These can be obtained online, at chemists or health food shops or you can also purchase a bottle from this page.
How to Administer:
My recommendation is to drop the essences along the spike of your animal (rather than ingesting it). You can have a practitioner (like myself) make up a bottle ask them to remove the alcohol, otherwise stock from chemists or health food shops will contain alcohol and you don't want to be feeding that to your animals.
If you are travelling with your animal, considering spraying it on their collar or a bandanna to assist with keeping them calm.
If you would like to know more about these amazing essences or would like a personal essence made for your animal, please contact me via this page to make a booking to assist your animal.