As A Pet Psychic I Often Ask People:
Have you ever wondered what your Pets are thinking?

Hello, I'm Donna Hamer Animal Communicator / Pet Psychic and Healer from the Sunshine Coast, Queensland, Australia.  I was gifted an animal communication session with one of my dogs many years ago and knew then I wanted to be able to assist animals by being their voice.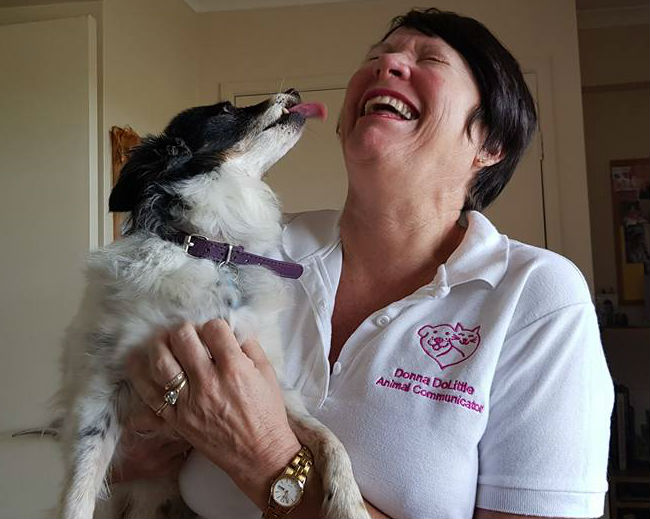 Like humans, from time to time, pets have problems and need to express themselves. An Animal Communication session is a way to hear what's going on with your pet and get answers to their behaviours or concerns. They want to be heard and are usually happy to negotiate new behaviour.
A communication session involves a two way conversation that involves 'thoughts, feelings and images' being sent between the animals and myself.  The animals have a fantastic sense of humour and this often comes out in the session, so connecting with different animals always keeps me on my toes.
If you have questions or concerns about your pets or want to contact a pet that is in spirit, then all you need to do is send a picture and I'll telepathically connect with them and share your questions or concerns.

If you'd like me to connect with your pet but are not sure what to ask, as you don't want to 'waste' a session by asking the 'wrong' questions, then take a look at some of the questions other people have asked by visiting our FAQ page.
There's really no limit to what can be asked, and while some animals like to discuss everyday matters, others like to be consulted on important decisions involving their humans.
Here are some of the most common types of questions we talk about:                 
 Are you; anxious, lonely, happy, sad, bored, depressed, scared, jealous, in pain?
Do you need

; food, water, more toys, walks, company, attention, cuddles, love, visit to vet, alternative health treatment?

What do you think of

; my new partner, the new animal introduced to our pack, our new home, the new baby, the hours I work, your bedding?

Why do you

; bark, bite, dig, scratch, destroy the furniture, whine, wee or poo inside?

Does my

; animal who is in spirit wish to tell me something, who are they with?
If you have a question or questions you would like to ask, book a session so I can be the voice of your animal!
Donna has one of the truest connections with animals I have come across. I was a newbie to a workshop Donna was attending and saw her having full-blown conversations with animals of all species! It was a pleasure to watch and I have since had Donna communicate with my own very independent cat, and gifted a communication/reading to my friend whose pooch had passed over.
Donna communicates with heart and may bring through information you need to hear about the health and happiness of the animal you care about, as well as the messages of love your animal has for you. In addition to the communications Donna also provides energy-healing services with reiki and essences, and is pioneering her own new techniques – the sign of an excellent master in their field.
I highly recommend Donna's services if you are in need of supporting your animal. Her pricing is exceptionally reasonable in the space of animal communication (in fact I'd say you're getting beyond excellent value for money).
Donna has spoken to my 15year old dog Nano a few times this year since she was first recommended to me. My dog's first words where "what took you so long?", which made me laugh! Donna has shared things that she could not have known about Nano, and has given me an insight into him, his thoughts and feelings, his wisdom, his memories of our previous lives together that are so precious and valuable to me, and that I could not have known otherwise.

I had to travel for work a month or so back, and Donna communicated with Nano, letting him know how many 'sleeps' I would be away, and who was taking care of him in my absence. This reassured both Nano and also me, because he told her that he was happy with the arrangements and would be fine 🙂

Nano has had several visits to the vet recently, and Donna has very kindly and generously been consulting with me throughout the process, so that Nano can be involved and share how he is feeling at the appropriate time. Nano sent her a message outside of a session – that she was able to receive just because she was thinking about us – to let me know that he was fine and I mustn't worry. This message gave me such solace in a time of such worry and upset. I'm incredibly grateful for Donna's incredible gift and her kindness and compassion
I highly recommend Donna she is amazing my dog kelly hurt her neck the vet advised us the only option was to put her to sleep this was not an option for us something told me to think outside the box for answers and I found Donna she communicated with kelly and what Kelly told her gave us the drive to not give up to keep looking outside the box Donna gave kelly diamond and energy healings along with our crate and neck brace therapy and Kelly's will to be here she made amazing progress in that time we found a vet that worked with us and never once said she could not have a quality of life Donna checked in Kelly regularly and kelly told her how she was going while she still wears a neck brace for protection of her neck kelly is just as active as any other kelpie thank you so so very much Donna if it wasn't for you we may have made a terrible choice because of bad advice from the original vet always think outside the box and be open to amazing people like Donna that have this amazing ability thank you Donna you are amazing xx
BOOK AN ANIMAL COMMUNICATION
SESSION WITH DONNA

Connect with me via Facebook at www.facebook.com/donnadolittle