I have always loved animals … hence why I got the name  'Donna DoLittle'! I can't remember a time that we didn't have at least two or three family pets in our home. There was always something special about them and I could never put words into what I felt for them.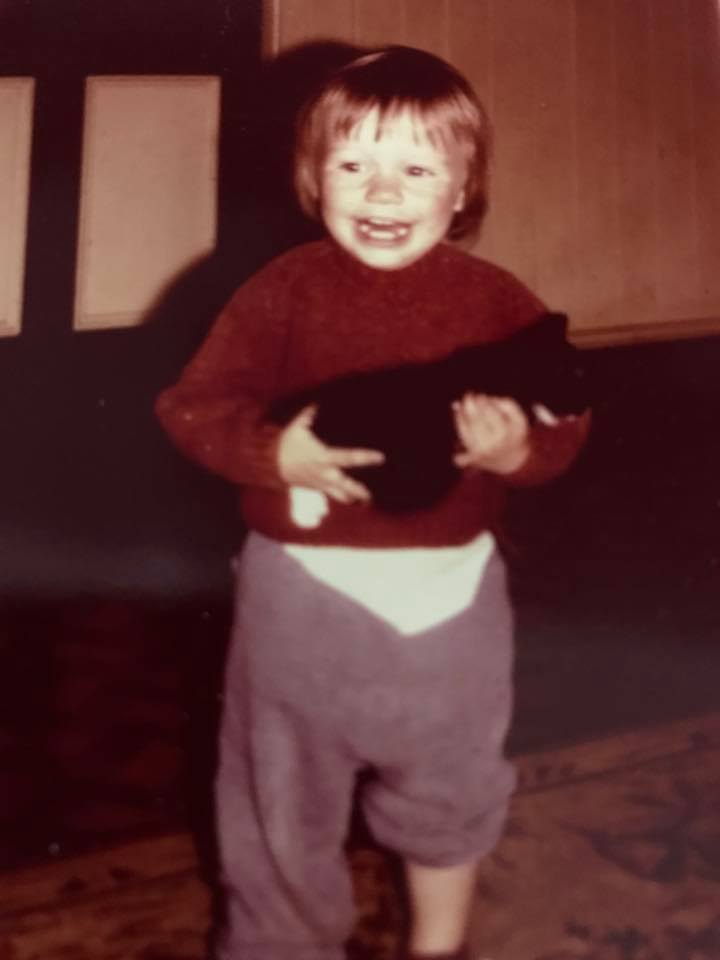 Some of my earliest memories are cuddling stray cats  (which resulted in me picking up not so pleasant bugs from them) or wanting to take home every puppy as they "didn't have a home and we need to help them"!
I have always "talked" to animals and never understood why others didn't hear what they were saying. As a child, I spent hours with my family pets and often asked to stay at home rather than attend family functions just so I could be with my special friends!
Growing up I was surrounded by horses, our beloved childhood dog called King, 3 cattle dogs, a couple of farm cats, chooks and budgies and let's not forget the gold fish!
When I got my first horse (Beleta), I wanted to sleep outside with her so she wasn't lonely.  I recall her having had an injury so we brought her home to our house block and I could see her out the bedroom window at night.  A couple of years later she had her first foal in our backyard and within minutes of him being born I was outside watching him trying to stand, what a beautiful experience and one I will always remember.
I feel very fortunate the animals have always been 'there' in my life.  As a child, they were my special friends,  when I got home from school they were 'there' to chat about my day.  They were also 'there' when I was sick and needed a cuddle. When I grew up they were 'there' when I was a single mum who had breast cancer and needed a friend to support me!
After health issues and being frustrated where my life was going, I decided it was time to walk away from my corporate career and work with what I loved the most "animals"!
I was gifted an animal communication session with a lady (known as a pet psychic) and was totally astounded at the information she told me about my beautiful rescue dog called Fergie.  She discussed with me about my animals, their thoughts, and how they felt I should be working with animals and wanted to know what was holding me back! I was so astounded with what she told me, that I wanted to know was it really something I could do? She said "we all have the ability you just need to re-tune yourself to listen to the animals".
Those words were like a light bulb moment, I realised that all that "talking" I did with the animals in my childhood had been reawakened.  This talking actually had a name "animal communication" and there were people who were called animal communicators aka pet psychic doing what they loved every single day.
My love of rescue animals quickly saw my fur family grow and I started investigating what else was available to assist with animals and their healing.
I'm passionate about animal communication and learning modalities to assist animals in healing naturally. I now incorporated in my work, the use of Australian Bush Flower Essences, Doterra Oils plus Crystal and Reiki healings.
I believe there is a correlation between 'hoomans' and their fur babies, in that animals often display symptoms of illness/pain that their hoomans have.
"Animals are such clever beings and will take on issues to help heal their humans"!
I'm always up for a chat, a morning walk often take twice as long as it should cause I talk with the animals and hoomans along the way.  I share messages I receive from the animals as I love being an animal communicator aka pet psychic, its a gift and one that I truly cherish!
My motto is "A home is not complete without a large family of fur babies" … so without any further ado … meet my assistants that work with me.
Meet My Assistants
[Top row:  Speedie, Spyro and Kipper]
[Bottom row:  Chloe, Ajax and Fergie]
Speedie and her partner Kipper (who was 17) have now passed however the other 4 are still alive and keeping me on my toes. They are my practice subjects for all my learninng 🙂